From our QDC Community, Mr. Ganesh Bapurao Jagdale from Launspace Services, a trusted provider of premium dry cleaning services since 2018, asked about the cleaning zari sarees. Mr. Vikas Chandra Das, the esteemed Owner of Synergy Garment Care in Jamshedpur, one of the QDC's important clients, shares his expert insights on the best practices for cleaning zari sarees or garments to achieve an incredible finish. So, Let's dive in and learn about it.


Before delving into the methods of cleaning zari sarees or garments, it is crucial to understand why the issue of crushed Zari occurs.
Why does crushed Zari occur?
Modern Zari used in sarees is typically made from a plastic-copper blend that undergoes electroplating. It differs from the traditional silver and gold threads. And as a result, crushed Zari appearances can occur due to the following factors:
Breaks in the wash process.
Usage of non-RPM controlled normal hydro extractors.
Inadequate heat during ironing, as standard pressing methods may not provide sufficient heat for plastic Zari. Causing it to appear straight initially but wrinkle when cool.
Tips and Tricks for Cleaning Zari Sarees with achieving a perfect finish:
1) Opt for dry cleaning whenever possible:
Dry cleaning by professional experts ensures the safe handling of delicate fabrics and intricate zari work.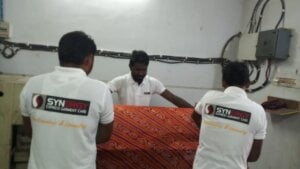 2) Enzyme-based detergent for washing: 
If dry cleaning is not an option, use an enzyme-based detergent to wash the garment. Enzyme-based detergents are gentle yet effective in removing dirt and stains without harming the zari.
3) Use low RPM during the extraction process:
When washing the Zari work garment or saree, ensure that you set the extraction process to a low RPM. It minimizes agitation, preventing potential damage to the Zari.
4) Starching with care: 
Starch your sarees using a high-quality liquid starch. Avoid using arrowroot or sabudana starch, which may not provide the desired results. If the customer prefers no starch, consider spraying starch only on the border area.
5) Polish with precision: 
Employ the expertise of a highly trained professional who understands the ideal heat settings for different fabrics. Polish the zari when the starch is still wet to achieve optimal results.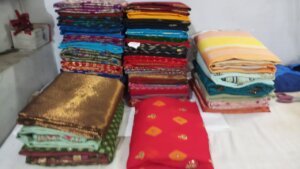 6) Additional treatment, if needed: 
For exceptional cases requiring further care, Mr. Das suggests using a specialized chemical from Seitz for an additional dip, ensuring a perfect finish.
In conclusion, cleaning zari sarees or garments requires a delicate approach to ensure they are not damaged and achieve a stunning finishing. We are grateful to Mr. Vikas Chandra Das, Owner of Synergy Garment Care in Jamshedpur, for sharing his expert insights on the best practices for handling and cleaning zari sarees.
By understanding the reasons behind crushed zari and following the recommended steps, such as opting for dry cleaning, using enzyme-based detergents, setting low RPM in the extraction process, and starching with care, you can achieve remarkable results. Mr. Das's expertise and dedication to garment care have provided invaluable guidance for maintaining the beauty and longevity of zari work garments. With these tips and tricks, you can now confidently clean zari sarees without any damage and achieve a stunning finishing.
QDC Software enables you the 2x growth, high revenue generation, and increase your business profit with many features that every laundry and dry cleaning business wishes for. 
Start your 14 days free trial of Quick Dry Cleaning software right now >> Click Here!