A recent survey revealed that 50-80% of the times customer comes to pick up the clothes without invoice tickets. For a store with no computer software installed, the customer is called inside the store and asked to identify any of his/her clothes. Once a cloth is identified, its invoice number is extracted, from the tag attached to the cloth, and then the invoice book containing the duplicate slip of the invoice ticket is located. If the cloth was recently booked it is easier to locate the invoice book, however, if the booking is dated, say more than 6 months old, it becomes all the more difficult to locate the invoice book.
Once the duplicate slip is located, complete information of the order becomes available including all the garments that are part of the order. All the clothes are then located, packed and delivered. A customer is asked to sign an undertaking on the duplicate slip itself to acknowledge that the delivery has been made without the invoice ticket and customer under no circumstances can produce that ticket in future. This invoice book containing the duplicate ticket is saved for life, to maintain the proof of the customer signature, and that adds significantly to the storage expenditure.
Quick Dry Cleaning Software offers a simple, efficient and cost-effective way to handle this situation. As the customer arrives to pick up the clothes without the invoice ticket, go on to delivery screen -> search customer by customer name or address or telephone number -> system shows a list of the pending orders of the customer (for which either the delivery is pending or the payment is pending) -> select the order(s) that you are interested in and the complete detail of the order is made available by the system.
The system also offers space to enter the remarks related to delivery, some identification of the customer (who is taking the delivery) could be mentioned there. This information can prove to be a handful in the case of illegitimate production of the same invoice ticket in future. A duplicate slip is then generated; customer signature is taken on it and safely kept in a file.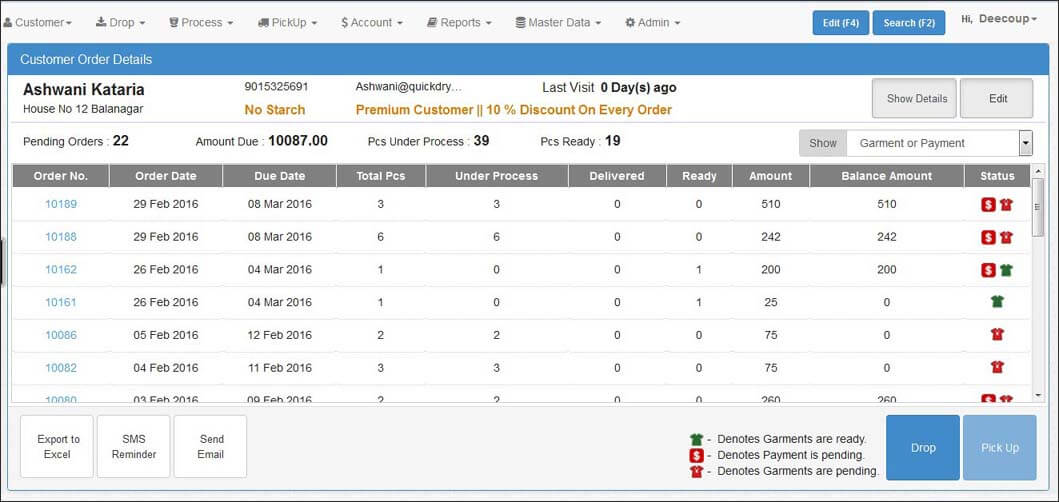 Illustration: List of all pending orders of the customer can be extracted from the system just by searching customer by name/address/contact number.
The complete process offers a considerable reduction in storage cost, effort to locate details of the order, and minimal wait time for the customer thereby improving efficiency and most importantly customer satisfaction.