Today, reinventing and re-skilling yourself to drive better results is a constant process. Intelligent or Smart professionals are continuously looking to take up many roles and responsibilities and be the growth drivers in their organizations.
We (QDC), as in the laundry and dry-cleaning industry for decades, have seen many changes in customer behavior, laundry and dry-cleaning equipment, marketing strategies, roles and responsibilities, laundry management, financial strategies, and changes before and after covid. There is a large gap nowadays. As people are not the same, their needs and demands change from time to time.
So, if you also want to be in the industry for the long run, then you must reinvent yourself. You need to invest in your skills and thinking process consequently. You need to re-skilling yourself to drive better results in your laundry and dry-cleaning business.
Then the answer is so simple you need to socialize, communicate, and meet people within the same industry, which means the laundry and dry-cleaning industry. Attend conventions, webinars, seminars, and any engagement platform which leads to knowledge sharing. Also, listen to expert speakers from the industry on various topics.
Especially, our primary goal is to gain awareness about the consumers, market, and future sustainability challenges. Engagement with industry leaders correspondingly enables you to network with your peers, strengthen your network, and create new partnerships.
DLAI (Dry-Cleaners and Launderers Association of India) and QDC software are here to help you out.
National Convention for Dry-Cleaners and Launderers, under the title sponsorship of STEFAB & ECOLAB and under associate sponsorship of DIVERSEY & QDC, presents India's Largest Convention for Launderers & Dry-Cleaners.
Re-skilling Yourself to Drive Better Results
NCDL2022- National Convention of Dry Cleaners & Launderers 2022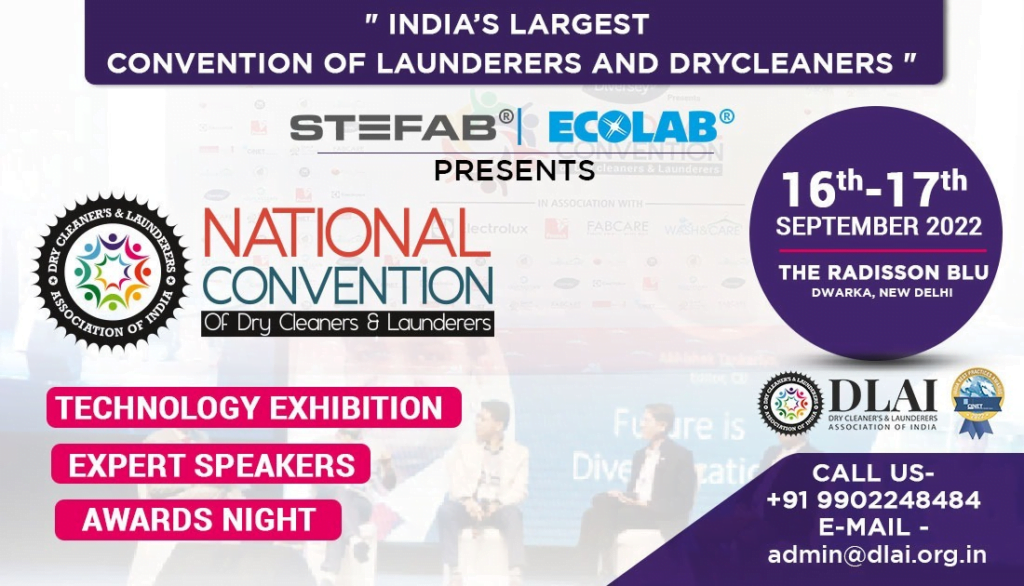 Re-skilling Yourself to Drive Better Results so,
So, gear up yourself for a mega industry convention to have to meet with industry Peers & Build a Network with 1000+ Launderers & Dry-Cleaners.
Pull up your socks for Sept. 16th & 17th 2022 at Radisson Blu, Dwarka, New Delhi.
Indeed, this Convention is like no other is going to be conducted with exceptional events. It also contains Informative & Successful Knowledge sharing sessions with the titans of the Laundry Industry and Peers.
Who should Attend the NCDL 2022:
Dry Cleaners 
Launderers 
Shoe Cleaners
Laundromats
Laundry Managers
Equipment Sellers and Manufacturers
Traders, Distributors
Chemical Suppliers
Software Vendors
Maintenance Repair
Media Houses
Exhibitors And other industry professionals
Also, anybody who wants to have a successful career in the laundry business
so, Re-skilling Yourself to Drive Better Results
Why should you enroll for NCDL:
To up-skill and remain competitive
Enable innovation in your business
To be a growth driver for your organization
To Listen the Industry Expert Speakers
Attend Informational Sessions
Network With Manufacturing Suppliers and Industry Peers
Witness "The Best Practice Awards"
It will be a Power packed Program with Knowledge Sharing and Network Building Sessions. It's going to happen at another level and with a fresh spirit. NCDL also offers a 360-degree support platform, experiential learning, important insights for your business & a lot more. Hence, you can gain insight into your business with industry experts.
Re-skilling Yourself to Drive Better Results
Don't miss the opportunity to avail the benefits of participating in NCDL.
So, looking forward to welcoming you all.
The Mega industry expo at Radisson Blu, Dwarka, New Delhi.
Date: 16th-17th Sept 2022
Hurry before you miss out, book your seat Today!
So, Click the link below for tickets: https://ncdl-2022.zohobackstage.com/NationalConventionofD…
Contact us: 073032 82525, 09015325691
Website: http://dlai.org.in/
Mail us on: [email protected], [email protected]