This time we (QDC) are here to tell you about one of the hot topics trending nowadays in the market which is Mobile Marketing. So, we are going to cover "How mobile marketing can do wonders in Laundry & Dry Cleaning business" . It includes an explanation of mobile marketing, why laundry and dry cleaning businesses need a mobile marketing strategy, and How to make a good Mobile Marketing Strategy for Laundry and Dry Cleaning businesses. And the types of Mobile Marketing we can use in the Laundry and Dry Cleaning business.
So, let's have a quick definition of mobile marketing. In simple terms, It is an omnichannel, digital marketing strategy that aims at reaching the target audience on their smartphone, tablet, or any other mobile device through the website, E-mail, SMS, Social media, or any app. When done right, mobile marketing can provide potential customers using smartphones with personalized, time and location-sensitive information. By that, they can get what they need.
Let me tell you that Mobile Marketing is the future of Marketing. But honestly, the era of mobile phones had already come. Look at the graph attached below:-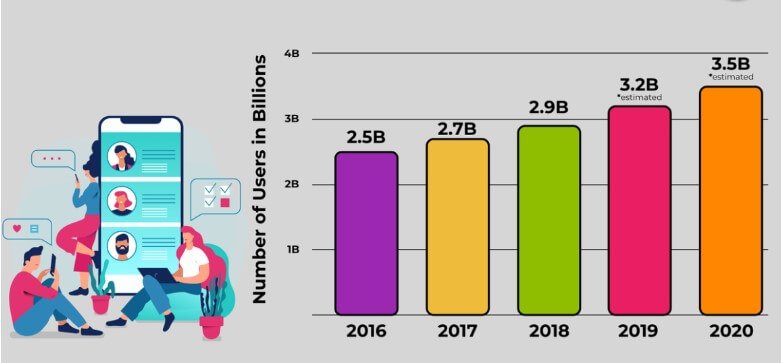 Now you can see clearly that more users are spending their time engaged with mobile devices and the number of users are increasing year by year worldwide. We can expect this trend to continue further in the upcoming future. Now If you're not implementing some kind of strategy of mobile marketing in your laundry and dry business, you're already trailing behind! So get ready >>
Why do you need Strategies for Mobile marketing in the Laundry and Dry Cleaning Business?
Well, mobile marketing is the "Need of the hour". According to the report- 40 % of users' internet time is spent on mobile devices. That means ignoring the rise of mobile just isn't an option.
Let's have a look at some facts and figures related to mobile marketing.
Most consumers start researching new products or services on a smartphone, using a search engine such as Google.
Consumers spend more than 15 hours a week researching on their phones and visit mobile websites up to 6 times on average.
Almost 3 quarters of mobile phone users searching for a business or service on their phone expect the business to be within five miles of their current location.
More than half of these customers want to purchase within an hour of researching products and services on their phones.
More than 90 percent of people who research a product or service on their mobile devices go on to complete a purchase, with most of these transactions happening in a physical store.
Mobile is here to stay, if you don't have a Mobile Marketing Strategy yet, it's time to get going and do research for some strategies for mobile marketing in the laundry and dry cleaning business. Now the question arises that
How to make a strategy for Mobile Marketing in the Laundry and Dry Cleaning Business?
1. You need to Understand your mobile targeted audience: –
Effective mobile marketing begins with understanding your target audience.
Ideally, you'll have already created customer personas in your laundry and dry cleaning business representing your customers and target market to your different advertising activities, you may reuse them. However, you may need to do extra studies to fill out every persona with:
The mobile channels or touch-points they use
Where the mobile user gets information from?
How mobile users research products and services?
How they make purchasing decisions, and?
Do they make the purchase?, i.e. is it in-store, via e-commerce websites, or mobile apps?
This data will help you in deciding which advertisement channel to focus on and what type of content you create for your laundry and dry cleaning business.
2. Set the goals for your mobile marketing campaign: –
Remember that the primary goals for the business are achieved only through the smaller goals that are influenced by your marketing campaigns.
Let me give you an example. Assume that the primary goal of your laundry and dry cleaning business is to gain 7 % sales growth. But to achieve that goal you need to work upon the following parameters: –
Define your ICP's (Ideal Customer Profile)
Position your brand rightly to get noticed and attract new customers
Build your brand to earn customers trust so that they use your services as well as refer you more customers
Get ahead of your competitors
You need to retain the existing customers
So, when deciding your goal for mobile marketing in the laundry and dry cleaning business, you need to consider what you already have in a place like: –
Do you have a mobile-friendly website? The fact is that a mobile-optimized website is one of the most important best practices when it comes to Mobile Marketing in Laundry and Dry Cleaning Business.
If you are using email marketing, are your outgoing messages optimized for mobile devices?
Do you have a mobile app? And are you promoting it properly and using the push notifications strategy for your mobile app.
Are you sending out any text messages to your existing customer?
3. You need to create KPIs (Key performance indicators) for the mobile marketing campaign: –
What is the benefit of a mobile marketing campaign if you can't measure the performance of all your efforts?
The above point has you setting goals and these will decide which KPIs to track for your mobile marketing strategy.
Primarily, the frequent KPIs includes are:-
CPI – Cost per Install and CPA- Cost per Acquisition.
Open, Click through, and conversion rate.
Retention percentage and Daily or monthly active users.
Number of app downloads or pick up scheduled
Revenue generated through this campaign
Types of Mobile Marketing you can use in your Laundry and Dry Cleaning Business?
There's a variety of mobile marketing strategies to try. The kind that works best for your business depends on your geography, target audience, and your budget.
Mobile Search Ads
These ads appear on mobile search engines results or mobile optimized websites. You can alter or modify them according to your campaign. It can be in text, video, click-to-call, or app content formats. This mobile marketing technique can be set up by ad network providers, like Google Ads or AdMob.
SMS Marketing
SMS campaigns are the oldest kind of mobile marketing and are still one of the most popular strategies because it is cost-effective and has high reach.
An SMS campaign is when marketers send short text messages to their client base. These messages mainly include promotions or any upcoming special offers.
App-Based Marketing
It involves the pop-ups ads appearing or in app notifications on the mobile user's app. It includes banner ads or videos with a certain CTA (Call-to-action).
Location-Based Marketing
This type of marketing uses a mobile device's physical location to alert the user about a nearby promotion or event. By using the customer's location data, marketers can reach potential customers.
QR (Quick-Response) Code Marketing
QR codes are the latest in the mobile advertising block. Users scan the code with their mobile cameras and are immediately taken to your website. QR codes are great because they encourage engagement and interaction with users through their mobile devices.
In-Game Mobile Marketing
It refers to the mobile ads that pop within the use of the mobile gaming application.
Mobile- Image ads
Image-based ads designed to appear on mobile devices.
This is it for today but stay tuned for our upcoming blog on some Mobile marketing hacks in your laundry and dry cleaning business which will help you to create a successful mobile marketing campaign.
If there is any doubt or any sort of question, we are open to discussing it with you. You can reach us at [email protected].