The Clean India Show 2023 has concluded after three days of extraordinary innovation and knowledge sharing, leaving behind inspiration and progress.
Team QDC expresses heartfelt gratitude to all the launderers and dry cleaners who visited our stall and contributed to the event's success. Your presence, support, and enthusiasm have been crucial to making this year's Clean India Show an unforgettable experience.
As the curtains close, let us reflect on the valuable lessons, highlights, and achievements of this journey so far.
Learnings from the Clean India Show 2023:

1) Building Bridges:
Clean India Show 2023 allowed us to build bridges and strengthen bonds within the laundry and dry cleaning industry. We've forged new partnerships and fortified existing ones, paving the way for future collaborations that will drive progress and innovation.
2) Sustainability in Action:
Our unwavering commitment to sustainability shone brightly throughout the event. Quick Dry Cleaning Software, our innovative solution, showcased how businesses can reduce their environmental footprint while maximizing efficiency. The path to a greener India is paved with sustainable choices.
3) Mission Motivated:
Our time at the show has fueled our motivation to push boundaries, innovate, and drive change within the industry.
Clean India Show 2023 Glimpse – A Grand closing:
As we bid farewell, here's a glance at some of the most memorable moments from this year's installment through our photo gallery.
These photos speak volumes about the success of the event, the exhibition hall was filled with energy as the visitors explored the innovative products and solutions on display.
Once again as bright as the north star, QDC sparkled brightly throughout, attracting visitors with our state-of-the-art innovative solutions and empowering laundry and dry cleaning business.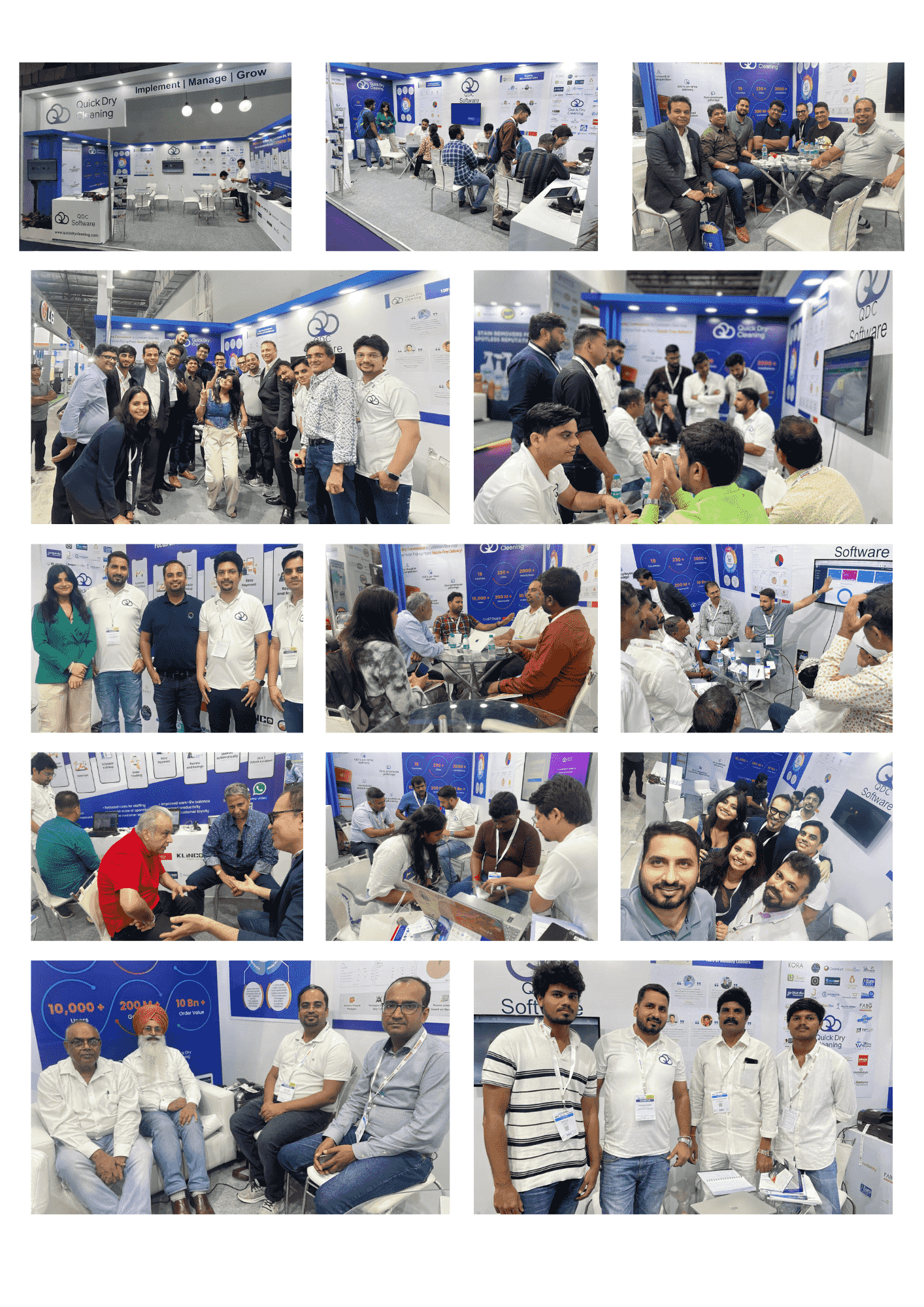 These photos perfectly capture the spirit of a united industry working towards a common goal of innovation and cleanliness.
Each image told a story of collaboration, inspiration, and a shared commitment to a cleaner India!
The Clean India Show 2023 was a huge success and the event served as a landmark for innovation. It symbol of the dedication of all those involved in revolutionizing the cleaning industry and creating a sustainable future. Check out thier website for more updates https://ctwindia.com/
QDC is proud to have been part of this incredible journey as an industry leader. We are grateful for the opportunity to showcase our innovative solutions. And we remain committed to assisting you in your continuous growth and excellence!
Thanks to all the exhibitors and visitors for making this year's show a remarkable success. Let's carry the spirit of the Clean India Show 2023 with us by implementing the learnings, nurture the bonds and partnerships developed, and drive a positive change in the community!
Till then stay tuned and read our blogs for further exciting news. And updates about the dry cleaning and laundry businesses on – Best tips for your dry cleaning and laundry business growth (quickdrycleaning.com)