In the fast-paced laundry industry of the UAE, businesses are constantly seeking efficient solutions to streamline operations and enhance customer satisfaction. One such solution that has gained significant popularity is laundry POS software in UAE such as QDC Software, a comprehensive Laundry Point-of-Sale (POS) software. 
QDC Software goes beyond traditional POS systems by offering advanced features such as streamlined order management, efficient garment tracking, accurate billing, comprehensive report analytics, effective customer communication management. And the list goes on as it is perfectly tailored for the UAE market. 
The laundry and dry cleaning industry in UAE is expected to grow rapidly and to ride this wave you need the best software for your laundry business. You can check the growth rate here : https://www.statista.com/outlook/cmo/home-laundry-care/united-arab-emirates
So, in this blog, we will analyze the key features to look for when choosing laundry POS Software in UAE. And why QDC Software is the best fit for your laundry business, with a focus on its applicability in the laundry industry of the UAE.
5 Key features you must look for in dry cleaning and Laundry POS Software in UAE 
1) Order Management:
Efficient order management is vital for a seamless laundry and dry cleaning operation. A robust Laundry POS Software should offer a user-friendly interface that allows easy creation, tracking, and management of orders. With QDC Software, Customers can conveniently place orders through various channels, Walk-in or online with mobile apps, WhatsApp. And track the status of their orders in real-time using a Whatsapp bot. With QDC Software, businesses can ensure streamlined workflows and provide customers with a transparent and satisfactory 360-degree laundry experience.
2) Garment Tracking:
Accurate garment tracking is crucial to avoid misplaced or lost items and maintain operational efficiency. QDC Software offers advanced garment tracking features, allowing laundry businesses to assign unique identifiers to each garment. This enables both staff and customers to easily track the progress of individual items throughout the cleaning process. With QDC Software, businesses can ensure accountability, minimize errors, and provide a reliable service to their customers.
QDC Software offers a cutting-edge garment tagging system using wash-proof QR code tags. These durable tags are attached to each item, enabling easy identification and tracking throughout the cleaning process. So, by utilizing this feature of the laundry software, you can ensure that garments are not misplaced or mixed up, providing peace of mind to both you and your customers.
3. Billing:
Accurate billing plays a vital role in maintaining financial stability for laundry businesses. Laundry pos software in UAE must offer an automated billing system that eliminates manual errors and saves valuable time. The laundry pos software must provide flexible options for generating invoices, applying discounts, managing multiple payment methods, and handling recurring billing for loyal customers. 
With QDC Software, businesses can streamline their financial processes and ensure seamless transactions. QDC Software provides flexible billing options tailored to the unique needs of your laundry and dry cleaning business for laundry pos software in UAE. It includes both the advance payment mode and the pay-at-delivery option. So, with this, customers can make advance payments, facilitating a hassle-free experience. Additionally, the software supports pay-at-delivery functionality, offering convenience. And flexibility to customers who prefer to settle their bills upon receiving their freshly laundered garments. So, these billing options ensure a smooth and convenient payment process, improving customer satisfaction and loyalty.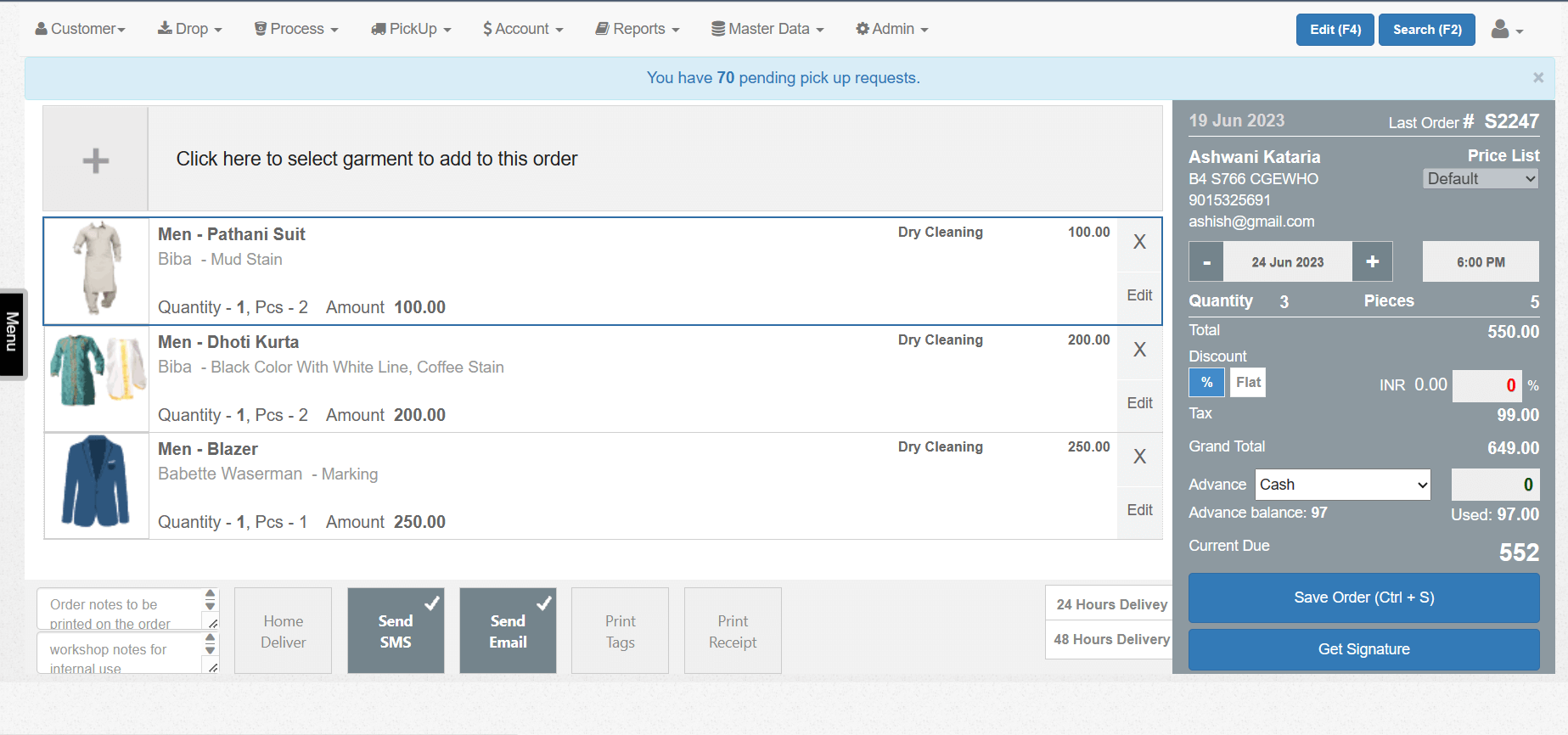 Data analytics is invaluable for making informed business decisions and driving growth. QDC Software, the best laundry POS software in UAE offers comprehensive report analytics, providing insights into customer behavior, popular services, revenue trends, and customer satisfaction ratings. The software's advanced analytics capabilities can identify customers at risk of churn, enabling businesses to take proactive measures to retain them. With QDC Software, laundry businesses can leverage data-driven insights to optimize their operations and enhance customer loyalty.
One of the most important reports is the Customer Trend Analysis i.e. customer at risk report QDC Software tells you about your frequent customers or those who are at risk. Software forecasts the next order of the customers using trend analysis. Customers are marked at risk for your business if they do not follow up on their order trends. They might withdraw from your services. So, with this important data, you can take timely action. And retain those at-risk customers by sending them SMS, app notification, or providing them an offer or discount. 
5. Customer Communication Management:
Effective communication with customers is essential for building strong relationships and delivering exceptional experiences. QDC Software provides integrated communication features, enabling automated in-app notifications, personalized messages, and feedback collection and you can integrate the Whatsapp transactional messages or WhatsApp bot for the Ultimate level of customer experience and engagement. 
With QDC, Businesses can use SMS, in-app notification, Whatsapp, Whatsapp transactional or bot, and other channels to send reminders for pick-up or delivery, offer personalized promotions, gather valuable feedback on service quality, and much more for real-time updates. So, with QDC Software, laundry businesses can strengthen their customer relationships and ensure high levels of satisfaction.
Conclusion for choosing right Laundry POS Software in UAE
QDC Software, a comprehensive Laundry POS Software in the UAE, offers laundry businesses the essential features needed for efficient operations. And enhanced customer satisfaction. With QDC Software, businesses can benefit from streamlined order management, accurate garment tracking, automated billing processes, comprehensive report analytics, and effective customer communication management. When choosing a Laundry POS Software in the UAE, prioritize these key features. 
They are amazingly provided by QDC Software, trusted by many laundry and dry cleaning brands. So, It will empower businesses to deliver exceptional service, make data-driven decisions, and stay ahead in the competitive laundry industry.
So, Start FREE Trial for 14 days now. And explore how Quick Dry Cleaning Software can help you better manage your Dry Cleaning and Laundry Business in UAE.